This post may contain affiliate links which means that, if you choose to make a purchase, I may earn a small commission at no extra cost to you.
---
Every heavy main dish requires a side to accompany your meal. And for that, it has become a tradition to have side dishes for soups and steaks, or any kind of stew dish. So you might be wondering, what to serve with Tomato Soup?
Tomato soup is a dish people often have for their main meal. But this soup requires a proper side dish that goes along with it. For years, the traditional side dishes that people prefer using with tomato soups were grilled cheese sandwiches. Some croutons on your tomato soup and a perfect toasted bread with melted American cheese make the best combo.
Sounds scrumptious, doesn't it? It sure is. However, your tomato soup isn't limited to only one side dish. You can add plenty of these easy or fancy dishes to accompany it and make your meal one hell of a kind! So if you want to know about new side dishes that you haven't heard of before, then ride on here and read this entirely to learn and make some for yourself. 
How to Amplify Your Tomato Soup?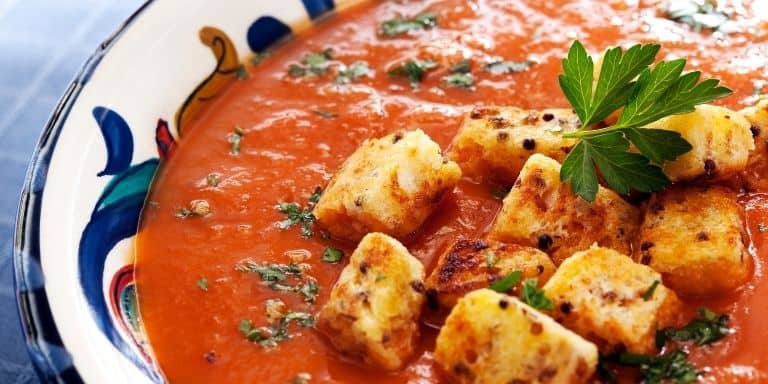 You can amp up your game in making a rich tomato soup by adding a few ingredients to turn it into a tastier meal. Throw in some croutons on top of your soup or try adding some egg while cooking it to enhance the ordinary soup. This not only makes it tastier but fulfills your stomach if you only planned on having this for a meal.
Those were the traditional add-ons that I was told about tomato soup. But here are some other amplifiers that I add whenever I want to have tomato soup. 
Croutons.
Egg while cooking the soup.
Fresh cream.
Italian herbs.
Roasted nuts.
Butter sautéed prawn.
Mushroom slices.
Above such items not only makes your dish look extravagant but it also makes up for becoming a fancy one. I can guarantee you that not only you but your guests and family members will love having these on their tomato soup and will ask for more.
What Side Dishes Can You Use for Your Tomato Soup?
Side dishes are mandatory for your tomato soup as they level up your food to something everyone would love eating. Traditionally grilled cheese sandwiches work the best for ages with it. But you can also make unique dishes like a Russian salad or rice to accompany it.
There's no end to your side dishes if you think about it. So let's dive into some side dishes I will highly recommend you to try and make for your tomato dish.
3 Traditional Side Dishes for Your Tomato Soup
Let's start with the traditional side dishes as these are the elders in terms of new and unique ones so they deserve the first place. I'll be mentioning some traditional options you can choose for your tomato soup-
Classic Grilled Cheese Sandwich
This is a cult favorite side dish for all the soup lovers if you ask me. I mean is there anyone who doesn't love toasted bread and cheese?
Furthermore, it is the easiest thing to prepare for your tomato soup with molten cheese complimenting it. It is considered one of the best cold-weather meals for ages.
Cooked Rice
Now this one is an Asian fusion favorite side dish that is quite old if you didn't even think this combo existed before.
Many people in Asia love eating their tomato soup accompanied by a bowl of steamy hot rice as the rice absorbs the flavor.
Garlic Bread
Who doesn't love good old garlic bread with your creamy soups? Well at least I do and my family as well.
The perfect garlic aroma and crispy toasted bread make your tomato soup a classic crispy and rich cream extravaganza! You can make it yourself with simple steps or just go ahead and buy as they are readily available.
Other Side Dishes for Your Tomato Soup
Now is the chance to introduce some interesting and scrumptious side dishes to transform your mundane dinner hour into a classy diner. Thereby, you may add a variety of items to your tomato soup that will complement it. So I'll talk about some perfect side dishes that you will surely love to add to your tomato soup.
Roasted Bite-sized Potatoes
A healthier option to choose if you aren't into deep-fried dishes and no grease buckets. This delectable and crispy item will sure make your soup feel so much grander than anything. It is not only healthy but tastes great.
I've always preferred a hardy side dish with a good bowl of tomato soup. And no other dish gets hardier than roasted potatoes.
Butter Sautéed Green Veggies
For all the green lovers, this will be your dream come true. Yes, you can add sautéed green vegetables to your tomato soup as a side dish which not only feels like a fancy side but an amazing healthier alternative for meat protein.
This is a great side dish if you are expecting guests, planning a small occasion with your family, or just if you are feeling like dining fancy once in a while. 
Mozzarella Sticks
The stringy goodness you need in your life if you haven't thought about it at first. When cheese isn't enough, this side dish is a perfect choice.
Make or buy these crispy cheese strings to turn your meal into a cheesy delight for your tomato soup.
Sausages
Exactly, you can easily add meat protein to your tomato soup. For those who want vegan options, go for vegan sausages grilled to perfection. 
The best thing about sausages is that they are super simple to make. Which makes it a worthy side dish for tomato soup in my opinion. The savory dish is an excellent choice for a simple yet tasty option.
Russian Salad
A sweet yet fresh salad for a refreshing contrast to your soup. This traditional dressed salad is a balance of cold yet cooked veggies and hot creamy tomato soup that will make you empty the entire pot of the soup.
Also, the freshness of a good salad will undoubtedly counterbalance the heaviness of a thick savory bowl of tomato soup. 
Baked Potatoes
Finally, the top favorite side dish which you need in your life for complementing any main dishes. Customize this dish any way you want, but traditionally sour cream and bacon bits are used. 
This tangy, creamy, and meaty dish makes your tomato soup a meal of the week just like you would get from a five-star hotel restaurant.
What to Avoid for Your Tomato Soup?
Your tomato soup can go with anything you want. But there are some limitations to some ingredients or items which I would recommend you avoid if you don't want an upset tummy. Anything extremely acidic or salty will make you have a bad time if you add these components to your side dish for your soup.
Since your tomato soup is already acidic and has high sodium content, do not make the mistake of adding more tomato to the dishes. For example-
Try to not have any salty dishes like kimchi or any other fermented items as these won't go well with your tomato soup.
Avoid adding any more tomato ketchup or sauce to your side dishes as this will increase your acidity resulting in digesting issues. 
Burgers don't go that well with tomato soup as the tastes don't complement each other, rather they are far different in taste and ingredients.