This post may contain affiliate links which means that, if you choose to make a purchase, I may earn a small commission at no extra cost to you.
---
One of the best things you can have at large family occasions is a big piece of gammon that has been made to perfection. Gammon has long been one of the best things you can have on the table, however, it is also the most likely dish to have leftovers. The size of an average gammon served usually causes people to be full long before the gammon is finished and knowing how to reheat it is important. 
In an oven, the ratio for reheating a gammon goes at 275°F, or 135°C, while the gammon is covered with a foil sheet for just 10 minutes. If you would like to reheat your sliced gammon in the microwave you will need a damp towel placed over the gammon, heating for 30 seconds at a time, flipping regularly, until warm. When pan-fried you need to simply have a layer of oil and have the pan at medium heat.
Each type of heating requires some work, with heating in the microwave and oven the likeliest to dry out the gammon to an undesirable state. Having your gammon reheated requires almost as much attention as originally heating the gammon did. Learning how to perfectly reheat your leftover gammon is just as important as learning how to cook the gammon from scratch. 
What should you consider when reheating Gammon?
Because gammon is not cooked in any traditional way, usually smoked until perfect they have no added moisture. This is why it should always be the most important thing that you consider when reheating store-bought gammon. If your oven is too hot, there is no sauce and no way for moisture to be kept in the gammon.
If you are making the gammon from scratch, slow roasting it in your oven, then you can control how much moisture your gammon will have. This is why you usually do not need to worry about freshly made gammon being overly dry, however, a bit of moisture would still need to be introduced. The debate about which is the best way to reheat gammon has been ongoing and long.
To reheat gammon bought from the store, which a lot of people think is cooking a gammon, you will need to place it in an oven at 325 to 350°F, or 160 to 180°C, for around 20 minutes. Making sure that the gammon is kept moist by sauces, the most important thing to remember is whether you are working with a whole gammon, or slices of gammon. 
How do you store the dish for later reheating?
Once the gammon ham has been removed from the table it needs to be wrapped tightly in a sealed plastic bag and refrigerated as soon as possible. If ham is left out for too long it will quickly start encouraging the growth of a range of bacteria and bugs, sometimes even developing worms.
The best way to store the gammon is in plastic bags or in plastic containers.
The only gammon that you can freeze is gammon bought freshly from the store, as this will be a gammon that has been smoked and usually placed in a vacuum-sealed bag. Once you have reheated the gammon one time you shouldn't reheat it again.
How do you reheat each dish in different appliances?
Reheating the gammon can be the most stressful thing you have to do as a host to a large party, usually because everyone and their mother will have their recipes. Knowing the perfect length at which the gammon needs to be heated in each appliance will make a huge difference. The fight against losing moisture and taste in gammon may make you rip your hair out. 
There are only three appliances that will be present in every house that can be used to reheat gammon, each one requiring different methods. This is because of the size of the gammon, and how quickly it can turn dry when overheated. Gammon is one of the few types of meat that even when diced and added to a soup can taste extremely dried out. This is everything you need to know about reheating gammons of all types.
| | | | | |
| --- | --- | --- | --- | --- |
| Appliance | Length | Temperature | Freshly Bought | After the party |
| Microwave | 30 seconds, turning until hot | High Setting | Sliced Gammon Only | Sliced Gammon Only |
| Oven | 10 to 30 minutes | 350 °F or 180°C | Whole gammon, with sauce | Sliced Gammon to portion control |
| Pan | 2 to 5 minutes | Medium Heat | Sliced Gammon Only | Sliced Gammon Only |
Reheating in the microwave
Reheating in the microwave is the most intense way of reheating your gammon and should only be done with slices of gammon or else it will not be heated evenly. With the microwave set on high heat, you need to have a glass or ceramic bowl ready, placing the gammon slices flat on the side of the bow. 
Once you have one layer of gammon you should use a damp paper towel placed over the gammon to ensure the gammon stays moist. Letting the microwave turn for 30 seconds you remove the gammon, and turn each slice around, ensuring that the towel is still moist. Repeat this process until the gammon has reached a sufficient level of warmth. This process is the same for gammon bought from the store, or freshly made and refrigerated. 
Reheating in the oven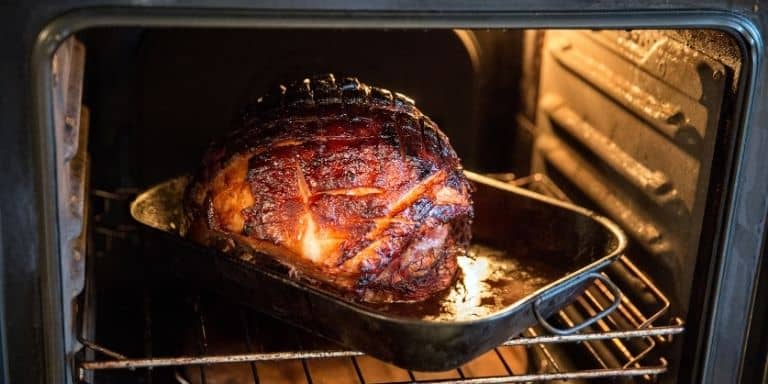 This is the one that creates the difference between a cook and someone looking for a snack. Preheating your oven to 350°F or 180°C, you should first get a baking pan ready, with gammon freshly bought from the store you will not get a baking tray ready. If the gammon has no sauce you will mix and pour the sauce into the tray and then place the gammon in the center. As the gammon is cooking you need to turn every 5 to 10 minutes to pout the sauce over. 
If you are using a sticky sauce it is best to have the pan covered with tinfoil, placing the gammon in the middle and then covering the entire thing. This keeps the moisture in and ensures that the gammon stays delicious as it reheats.
For the day after, the gammon should be in slices and then covered with foil in a baking pan. Heat it for 10 minutes at 350°F or 180°C.
Reheating on a pan
Using a pan is probably the most exciting and easiest way to quickly heat gammon, not only is it quick it requires truly little prior knowledge to do. Using a frying pan, you should use only slices of gammon to be reheated in this manner, you can cut a full gammon from the shops into slices and then prepare the gammon in this manner. 
With a layer of oil over low to medium heat, the pan should reach temperature before slowly laying the slices of gammon in the pan. Cooking until you get a good color on the gammon on both sides, with the edges of the fat just starting to turn brown, the gammon will be ready. If you want to add a sauce it is best to do it right before the edges start turning fully brown. This will quickly make the sauce be sucked into the gammon, making it taste amazing. 
Can you reheat different types of gammon?
You can easily reheat all types of gammon. However, the only limitation is how many times you can reheat gammon. If you have reheated gammon once after buying it from the store it can only ever be reheated once more. 
This is because each time you are reheating the meat you increase the chance of bacterial growth. Many times, people will only reheat gammon once, when bought from the store, and never again. This is done to ensure that the gammon stays healthy and that you cannot get extremely sick once eaten. 
Conclusion
Reheating gammon is not only an easy process but one that will surprise most of your guests at any holiday function. This is because gammon tastes fantastic and can look extremely impressive when presented right. 
Whatever you do, please don't put a whole gammon on the grill and expect something amazing!